Syntec Conseil Prize - FNEGE 2021: a doctoral student of the Magellan – iaelyon Research Center honored
For the 12th year, the Syntec Conseil Academic Prize, in partnership with the FNEGE, has awarded the best research publications in management of the year and the best research work applied to management. An article has been honored that was co-written by Laurent Giraud (Toulouse School of Management – University Toulouse 1 Capitole), Ali Zaher (iaelyon School of Management – University Jean Moulin), Selena Hernandez and Akram Al Ariss (both Toulouse Business School).
Prix Syntec Conseil - FNEGE 2021
The four coauthors are the winners of the 3rd theme – the new challenges of the digital transformation of businesses – for their article, "Artificial Intelligence and the evolution of managerial skills: An exploratory study" which is currently being reviewed for publication in the
International Journal of Information Management
.

For 12 years, the Prix Académique de la recherche en management de Syntec Conseil - FNEGE (Syntec Conseil- FNEGE Academic Prize for Research in Management) has become a point of reference in the academic world. The 2021 edition received around 140 applications, examined by an academic jury and professional consultants. Due to the health pandemic, the award ceremony was replaced by webinars that featured the winners.

► All the results of the Prix Syntec Conseil – 12th edition (in French)

About Ali Zaher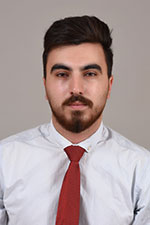 Ali Zaher
received his MBA in Lebanon and his Master of Research in Strategy and International Management from Toulouse School of Management.
His thesis project in human resources management, "Impacting clinical results through the acquisition of Artificial Intelligence skills", carried out under the supervision of Didier VINOT, is examining the effect of artificial intelligence on HR skills in the health sector. His doctoral work will study how the acquisition of these skills could impact clinical results, and will be tested on health professionals in France, China and Canada.
Ali ZAHER is currently under a doctoral contact. He is also member of the
Chaire de recherche Valeurs du soin
(Chaire on the Values of Care)
Research in Human Resources